This article needs to be updated

As a result, some of the content may not be currently relevent. Please help contribute by updating it.
Research Station

Type

Base

Game Mode

Survival

Faction

Alien

Aggression

Aggressive

Weapon

Ion Cannons

on the outside,

Sentry Turrets

on the inside

NPC Guardians

None

Special Attack

None

Loots

Alien Containers

Location

Asteroid Field

Features Present

Farm

Cargo Box

Constructor

Hanger

Gravity Generator

Other

n/a

Gamemode

Survival

Creative
The Research Station (not to be confused with Research Facility) is one of the two alien space stations, which can be found in Survival.
Description
[
]
The first area has two covered hangers and one open hangar, located at the bottom of the research station.
The second area is a room with five Small Generators, a Large Constructor, and 10 Cargo Boxes.
The third area contains the core of the base, just outside of the elevator. It also has several lounge items as well as a bathroom area and many decoration items. All of the plants in this base can be found in this level spread across three separate rooms.
The fourth area is a long corridor which forms a ring around the body of the station. This area allows for a view of the surrounding space.
Most of the areas in the base are on the same floor, separated into rooms by Hull Blocks and Automatic Doors.
Weapons
[
]
There are a total of 8 Ion Cannons guarding the outside as well as many smaller turrets scattered throughout the inside of the base, with an average of two per room. Due to the small rooms, it is easy to destroy them with a shotgun.
Plants
[
]
The Research Station has three rooms that hold several plants on the third level.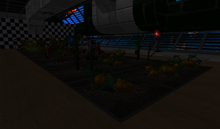 Gallery
[
]