Ningues

Type

PvP

Gravity

0.54g

Temperature(Min/Max)

-38°C

Atmosphere Density

1.387Kg/m3

O2Content/Breathable

no

Moon

0

Ningues is a snowy planet. The atmosphere cannot support Human life. The terrain primarily consists of hills, mountains and plains that support arctic forests. Low plains have hot springs which can be used to generate Oxygen. Most of the plant life grows around these hot springs. Animal life includes Slimes, Cave Worms, Parasaurs, Oviraptors, Ice Golems, and Spiders. There are both hostile and neutral alien installations present on this planet. Various types of Drones are employed to guard important locations and the planet's defenses include Troop Transports and a Patrol Vessel.
Weather
[
]
Flora
[
]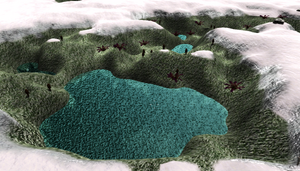 Fauna
[
]
Points of Interest
[
]
Drones
[
]
Minigun Drone
Rocket Drone
Plasma Drone
Large Minigun Drone
Ore
[
]
Disclaimer: All infos about PoIs, Ore, Fauna and Flora represent the default settings for this biome/planet. Please keep in mind that planets and moons as well as biomes can be altered by the server owner and therefore may be different to the infos given on this page!

History
[
]