Iron Ore

Type

Ore

Mass

16.5 kg

Volume

3.20 SU

Stackability

4000

Location

All Planets and Moons, Asteroids

Acquired by

Mining, Looting Cargo-box

Gamemode

Survival

Creative
Iron ore is one of the most basic and most important ores of the Empyrion Universe. It is used for crafting Iron Ingot which is then used for crafting many types of essential blocks and items.
Mining
[
]
Iron Ore can be mined using the Drill or the Rock Drill mode of the Survival tool. Ore deposits can be found on all planets and moon. Deposit size varies from 3 to 25. Iron Asteroids which are found in orbit, are another source for iron ore. They can be found in orbit of some planets with any detector. In the default Scenario, a small iron deposit always spawns close to the crash site.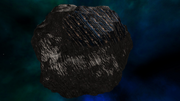 Crafting Using Iron Ore
[
]
History
[
]
Old resource image: